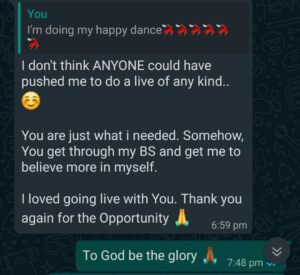 The Testimonial…
I have had many testimonials from the wonderful women I coach, but this recent one really made me feel like I had won a million dollars. First let me tell you about her.
We shall call her Tope. She is Nigerian and a member of our Facebook group called The Fabulous Woman Community. She first reached out and expressed interest in one of my sales sessions and so I had the privilege of brainstorming with her and a group of other fabulous women. As I observed her, I was impressed with her product and industry knowledge as well as the way she carried herself and rattled English.
The Problem…
Among the many businesses she was into, she also sold an international brand of skin care products. And so one of the many marketing strategies I suggested to her was to use videos. Suddenly her face and body language changed, I could sense she was uncomfortable. She murmured some sort of yeah yeah blah blah blah and I knew I hadn't gotten through to her yet.
Fortunately, she signed up for my Group Coaching For Startups and this typically began with a one-on-one discovery call. During this call, we delved deeper into her fears and needs. The more I listened to her the more I was convinced that video marketing will really do wonders for her business. However, she wasn't having any.
I told her to look at the bigger picture; the ability to inspire others with her story, educate others about skin care, how to sell, etc all in real time. In fact, the more I talked to her the more convinced I became that her ability to get unto video will serve a way bigger purpose than just selling her products and services.
The Solution…
Well like I do for all my clients, I prayed for her. I suggested she takes it slow, one step at a time starting with a short video in which she would talk about anything she wanted. All we wanted for her was to do a video, it didn't matter the content. She did! When she sent the video to me, she mentioned how she had done and deleted many others before that! Haha boy did I know what she was talking about!
Then I nudged her to post it to our group on social media. She did again! She even had many responses and encouragement from the other fabulous women. That day, I think I felt like I was flying lol.
The Result…
Next step, I suggested she considers my offer to interview her on one of my shows. I had been asking for weeks! I gave her a deadline of 24 hours to give me a yes. Thank God it worked. We first did a test which went well. The day I finally interviewed her live, I couldn't keep calm. I felt so grateful and indeed listed this accomplishment as one of the 3 things I was grateful for on that day.
I know this is just one step and in fact for some people, being in videos is not a big deal at all. But for the new woman in business who is worried about or afraid of doing a video, I have asked Tope permission to share her story so it can encourage you to try as well.
In fact before I share, let me tell you something another one of my coaching clients said 'every time I put myself out there, I get new customers'. By putting herself out there, she meant going on social media to give video presentations. Live videos is one of the main marketing strategies I recommend in my Free Places To Advertise Your Business on Instagram, Facebook and WhatsApp (You can get this resources here for free).
My Tips for You…
Hopefully by now, you are convinced and will give video marketing a shot. Here are 3 tips to help you manage your fear or worry about doing videos: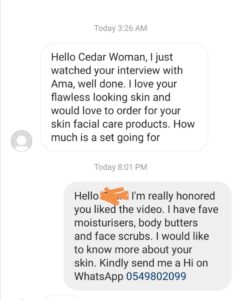 Learn how to do videos. There are many resources available online or you can simply pay someone to teach you.
Practise your presentations. I cannot stress how important practising is in making videos or doing most things for that matter.
Look at the bigger picture of why you need to do the video in the first place. An opportunity to be seen by your potential customers and build trust. Remember, people like to know and trust the people they are buying from. Besides, when you do a live video, you can interact with your audience in real time and answer their questions.
OK, I know I said 3 tips but this is a bonus tip which is the master of all my tips. PRAY. Why? It is your own reminder that God is with you. He's got you. He's helping you as He does ALWAYS.
Have I convinced you? Go make that video and don't forget to tag The Fabulous Woman Network when you post on Instagram, LinkedIn, Facebook or Twitter.
You are fabulous!
Ama xx
PS: FACEBOOK LIVE FOR BEGINNERS IS AVAILABLE NOW!
Facebook Live For Beginners is for you if you:
❤️need to speak to your audience in real time
❤️need to increase your engagement on Facebook
❤️want to host a live show on Facebook
BUT, you are
😒afraid of making mistakes
😒shy of videos
😒worried about the technology
😒not sure of how to create the content
In Facebook Live For Beginners, I give you the skills, strategies and tools you need to confidently create your Facebook live videos even if you've never done one before.
Early bird ticket is $37/220ghs until Black Friday, and then it goes to the full price of $57/330ghs.
Visit fabhub.teachable.com to sign up or send me a message.
Featured Image By: Vera Obeng Photography