R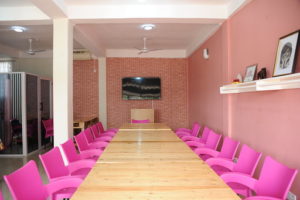 ecently, a friend asked me a question '…please how did you get funding for your training hub?' My answer: 'bootstrapping- I used my own savings' shocked me! Yes me! This was the moment it finally hit me that Fab Hub Ashanti had been born. What? I could not believe it and frankly even now, sometimes I am a bit awed. To put things in perspective, let me start by telling you the story of how it all happened…
While on the Mandela Washington Fellowship two years ago, Kellogg's School of Business at Northwestern University (USA) did a wonderful job of exposing us to the different tech and business incubation hubs in Chicago. Once a week we would go on a site visit to mostly hubs and I was really impressed by the sizes of the co-working spaces or shared offices/workspaces as well as the equipment I saw. In fact in one of the hubs, I saw a very lovely Ghanaian woman who shared her story about how renting an office space was so difficult and frustrating until she got a place at that particular hub. As I listened to her and others, I was super inspired and started fantasizing about creating a hub for women in business in Kumasi, Ghana. Indeed, The Fabulous Woman Network had already been conducting entrepreneurial skills training for women but a hub? Eish! The thought was scary and out of my league. I would usually think, 'oh someday we will have a hub' and dismiss the idea to focus on something more 'realistic' like organising training programs. I mean, we did not even have an office of our own, how were we ever going to create one big enough to host other businesses and events? Fogerrit!
Later though, I casually shared the idea with family and a few close friends. It was a bit challenging to explain the concept of a hub because it was quite new to them. Thankfully, I had been ranting about Hapaspace (a relatively known hub in Kumasi) for so long that it was easy to tell them 'oh it will be like Hapaspace; people can come and rent a workspace for an hour, day, week, etc. Only that we will focus on women' before I would get 'Oh OK'. I shared this dream with Albert Opoku of Hapaspace and not only did he spend time explaining how they started, he also gave me a white paper on how to start a hub to read. These conversations were very rare though because for some reason, I thought I would need a massive amount of money and the partnership of a super power organisation to start. This belief led me to apply for two separate fellowships and in each application, I stated that my goal was to seek help in creating a hub in Kumasi. In both applications, I was not successful and so I put my dream on hold for a bit to focus on events and activities at hand.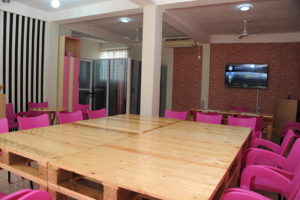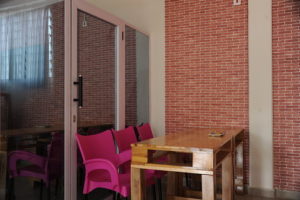 But this dream was becoming more of a burning desire, no matter how I relegated it to the bottom of my wish list, it would pop up every once in a while. One day at an event, I could not focus on the speaker, I started writing possible names for the hub. I immediately sent them to Albert and he told me he thought Fab Hub was great, giving me his reasons. I loved the sound of it too. OK so we had the name but where was the hub? And then he invited me to a meeting at Hapaspace with some people from Mastercard Foundation. In the meeting, he casually mentioned 'and Ama for instance is about to set up a hub for women…' and suddenly there was excitement in the room. You should have seen this brown skin girl blushing! Chai Fab Hub was becoming a reality! After the meeting, I was networking with one of the Mastercard people when he asked 'so Ama, what will it really take for you to create a hub? What are you waiting for?' Frankly I do not recall the answer I gave, but I remember Jorge Appiah of Kumasi Hive saying to me; 'Ama, Fab Hub is a great idea, just name it and claim it'! That evening I started hounding Gideon Brefo of Hapaspace again with my incessant questions. So basically, everyone said I already had the network and events, what I now needed was the place. Before I continue, can I just tell you that I had heard of how much people paid for rented offices and strongly believed that renting an office space was way out of my league?
This was sometime in March/April of this year. This was also when the burning desire grew stronger and I started talking to God about it seriously. I spoke to my friend Francisca Ampratwum of Perfect Health about this and she immediately told me about a shop that was up for rent. 'Breathe in Ama, you are a survivor' I thought. It turned out the space owner had even attended one of our events in the past, a very nice lady. So we talked, I visited the space and started imagining how it would look like. She told me the price, 'breathe in Ama, you can do this'. Fact; the amount of money I had in my account was not even enough to pay half the rent for the minimum number of years. Interestingly however, I did not dismiss it like I usually would. I started summing up the monies I was expecting for past and future training and speaking gigs, 'wait a minute I may just have enough money to pay for the rent!' I thought. This of course meant that companies which owed me had to hurry up and pay already. I knew furnishing and all would also take money but my mind refused to worry about that.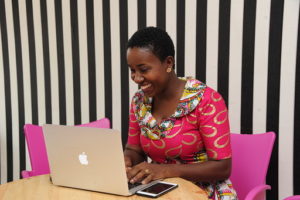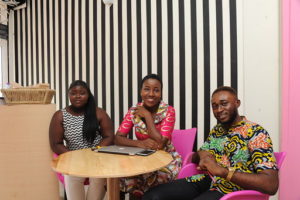 Meanwhile, I had to test the viability of my business idea and so I started asking the ladies in my network questions. One of them, Benedicta Afriyie of CEDAFA Ltd who was into construction offered to set up the space for free, all I had to do was buy the products and pay her workers! Hallelujah. In fact, when I saw her quotes I refused to pass out as I should have. I told her my money situation and that I would break the project into bits and she agreed. When I got one gig, I paid for plumbing. Another time, it was glazing of the doors. A gig here, a gig there, we were able to make headway. When it was time for painting, I begged her to use cheaper paints and her response was simple 'no, we will not use cheaper paints!' Eish this woman was stubborn eh! Well, I kept getting some gigs and hence money for the painting; the finishing of course was beautiful. Now it was left with almighty furniture. By this time I had had the space for over a month but had not made any money from it. Hmm it is well.
One morning after I dropped my kids off to school, I was on my way to Golden Bean Hotel as usual to buy tea, sit and work the whole day when I spotted a friend's shop. I was like, 'you know I have never dared enter Selina's shop because of fear of the prices. Perhaps I should just go and say hi at least'. So I parked the car and went in. Little did I know that God was up to something. Long story short, by the time I left her shop I had twenty pallets to use for my furniture, for FREE! Dear Lord! My hallelujah went straight up to God because I finally had most of the carpentry raw materials I needed to make tables. A gig or two later, I got enough money to pay a deposit for the carpenter's services.
Funny story, it was around this time that I was planning a trip to Rwanda for the Eisenhower Africa Conference. I remember my husband teasing me when I lamented about how I was struggling to come up with money to finish the hub and go to Rwanda 'you do not have money and yet you are flying to Rwanda'. Lol. And I have not even mentioned the standard things my money needed to do at home. Trust me, even I thought I was being ridiculous for considering that conference but for some reason I just kept pursuing both. Some very good gigs came my way miraculously and so Rwanda happened while Fab Hub waited. Before I left the country, I visited Regina Honu of Soronko Academy who also encouraged me to keep pushing for the hub to happen. While I was on the trip as well, I had many encouragements about the hub. I felt really positive about it.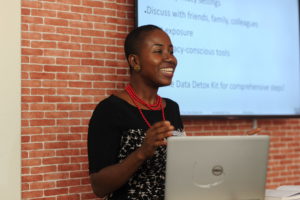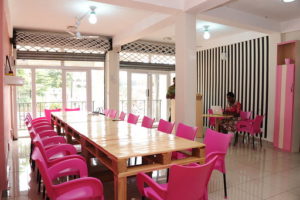 By God's grace I got enough gigs to sparsely furnish the space just in time to host our batch of forty NEIP (National Entrepreneurship Innovation Program) participants in July. And to the glory of God we had a wonderful time with them and completed their training and pitch competition at the beginning of August. My colleagues with whom I have been doing training gigs as well as some of the entrepreneurs in our network were so helpful in seeing to the success of our first month of training.
I named the hub – Fab Hub Ashanti; I decided to add Ashanti to the name because I believe it will be one of many Fab Hubs across Africa.
Another thing, now I have realised that all those times I was told by friends that I was 'pehpeh (frugal)', I was not at all. Now, I am properly pehpeh! Suddenly all the environmental consciousness in me has arisen with full force and one of my new favourite saying is 'you know I don't waste anything!' When our sink got choked  because we served our participants fufu and groundnut soup (never again!), I had two choices: call Benedicta's plumber or pour all the hot water in the world down the drain. It would take three days of prayers 'oh God please let the sink get better' and loads of hot water but eventually I did not need the plumber. I told Benedicta about my dilemma though and we laughed about it as usual.
When my own brother asked me how I got the money and I told him it was 'kpakpakpa (gigs)' I did to set up the place, he said I was lying and that I had gotten some big money and was keeping quiet about it. I cannot blame him, even I cannot believe it so how much more someone else. To think I thought I needed to be on a certain fellowship in order to set the hub up!
We are still not done furnishing the place but it is functional and we are grateful. As I type this, we still have no directional signage or branding done. Our cute inner office is also not furnished and many more things need to be done. And oh I even have a 'welcome to business' bill from a certain agency still awaiting my attention. Visitors to the hub sometimes suggest amazing things that I need to acquire and I just smile and say 'in due time'. You know what, I am not perturbed at all that Fab Hub Ashanti is nowhere near my heart's desire in terms of its look and function. After all I am not looking for perfection, progress is what I seek.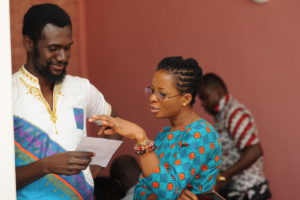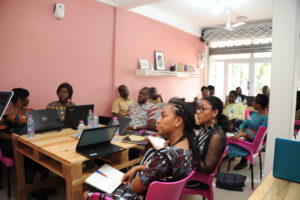 I am so grateful that we have even been able to host over 20 sessions of trainings/meetings already. And what even gets me excited is the feedback we have been receiving from our training participants so far. Two NEIP participants told me they did not really need the money but kept coming because of the value of knowledge shared and the community. Many of them told us they had seen improvements in their businesses since they started attending our trainings. I am deeply encouraged by these and so I keep pushing. And I am especially happy to be writing this at a very early stage in our journey; so that when we improve, we will not be seen as 'out of this world'.
Dear reader, I know you have a burning desire too; it is probably way bigger than my cute Fab Hub Ashanti.  But please believe me when I say, it is so possible!
Ama xx
Photo Credits: Vera Obeng Photography
Check out The FWN upcoming events
Breakfast With The Girls Accra 21st September 2019 Breakfast With The Girls – Accra & Kumasi
Strategy Retreat 4th – 6th October, 2019 2019 Strategy Retreat
3. Girls Trip Dubai 6th – 13th November  2019 Girls Trip – Dubai
4. Breakfast With The Girls Kumasi 6th December 2019 Breakfast With The Girls – Accra & Kumasi